Business & Industrial IT
IT Solutions That
Take the Next Step
Modernization of Existing Systems, Infrastructure Solutions, Transfer Concepts
What is IT? Information technology has many faces and cannot easily be given an all-encompassing definition. What is certain, however, is that business and industrial IT at Kessler Process Automation encompasses everything that falls into the area of virtualization, infrastructure solutions, IT security, IT cabinet construction, backup solutions, hosting and transmission systems. So we don't just bring communication media into companies and install them there and ensure uncomplicated, digital data processing; Kessler Process Automation is still about the interplay of technology and processing, but much more focused on the area of maximizing efficiency through digital possibilities. This means that we develop space-saving concepts without reducing performance within the company. It also means that we are bringing modularity and flexibility to places where rigid structures previously prevailed, resulting in manufacturer dependency and impaired access times.
Systems with Their Fingers on the Pulse
Success, efficiency, sustainability - all of this is only possible if resources are optimally utilized and, probably even more importantly, a view is always taken to the future. Because those who rest on past successes have usually already lost in the present. Therefore, especially in the equipment of a company, care should be taken to modernize infrastructures that have a future-oriented half-life and also improve and strengthen the previous effectiveness of IT. This starts with the server cabinet, extends to neatly and clearly arranged cable systems and finally to the calibration of the pulled cables, which can be carried out by Kessler Process Automation itself.
read more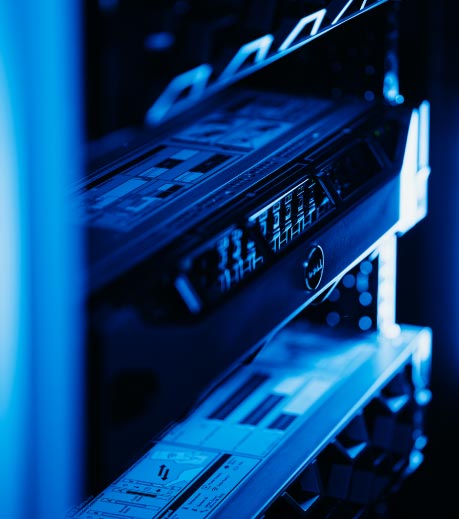 Security First
Security, Backups, Hosting
Especially in the corporate world, security is a highly important factor. Nothing is allowed to enter the company network without permission, nothing is allowed to leave the digital company cosmos without explicit permission. To ensure that this remains the case and that the security of a complex IT system can be guaranteed, Kessler Process Automation offers not only the installation of effective firewalls, but also modern encryption and authentication systems, as well as other concepts for seamless closure of sensitive data to the outside world. Of course, the BSI standards are always followed.
And we always follow the standards of the German Office for Information Security (BSI), of course. Backups go hand in hand with the subject of security – after all, one aspect is backing up your own data. In the enterprise segment in particular, conventional methods are hardly sufficient to securely archive important data in regular intervals. Together with tailored hosting for companies, modern backup systems with external data storage and perfectly timed functions from us therefore round off our service portfolio in Business and Industrial IT.