Engineering & Automation
Engineering
– Expertise Made to Measure
Preparation, implementation, follow-up
"Engineering" - a big word for a wide-ranging field of work. At Kessler Process Automation, we have dedicated ourselves to holistic support in engineering. Kessler Process Automation is thus not only the developer of customized software solutions, but also the engineer on site to integrate and install the technology in the form of hardware and software. But before this happens, every project is based on detailed planning in our company. Based on this, strategies are developed in basic engineering to achieve the project goal along individual concepts for handling and automation. Subsequently, we continue with the finer details in Detail Engineering. This is where the basic principles are refined and the results recorded are cast into concrete, detailed plans, component and material lists, assembly planning and documentation.
Individual Software Solutions
The art of perfect automation is the smooth, ideally timed interaction of all components of a process. For this optimally coordinated automation and process control technology, Kessler Process Automation is ready with many years of experience and modern know-how to create programs individually for every wish in software development. In software engineering, all our experience and philosophy come together with the knowledge of planning to realize special software solutions for any challenge.
read more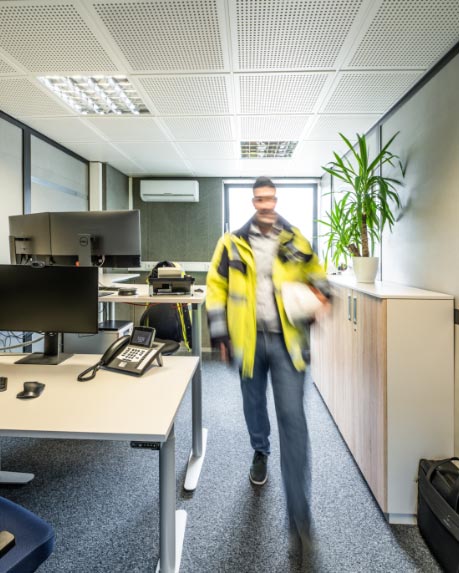 Big Moments – and What Comes Next

Technical Approval, Commissioning, Service
If production processes are at a standstill during the cold phase, things literally heat up during the hot phase - Kessler Process Automation is familiar with working in both situations when it comes to acceptance and commissioning of automation technology used. This is accompanied by training courses for the on-site personnel, so that we can ensure that the newly available technology is handled with confidence. In addition, we continue to be at our clients' side after the project has been completed: 24 hours a day, 7 days a week. Sustainable project support is a particular concern of ours, and every customer should be assured of competent and reliable all-round service.
read more
Plan, design and document
For planning, design and documentation in the field of industrial network, process control system, electrical and automation technology, we prefer to work with the following systems:
EPLAN P
EPLAN 5.X
EPLAN PPE
AUTOCAD
VISIO
Perfect Logic Controller Performance
In the field of PLC automation technology, the following systems are used by us in a qualified and expert manner:
| SIEMENS | ABB Systems | B & R Systems | Beckhoff Systems | HIRSCHMANN |
| --- | --- | --- | --- | --- |
| Siemens-Simatic S5 | AC870P | APROL | TwinCAT | Industrial HiVision |
| Siemens-Simatic S7 | AC800M | | Antriebstechnik | |
| PCS7 | 800xA | | | |
| WinCC | Maestro UX | | | |
| | Operate IT | | | |
| | Contronic E | | | |
| | Contronic P | | | |