Service & Support
More Than Just Planning and Installation
Service, Maintenance, Updates
A product – be it a software or hardware solution – was installed or assembled at a company and has been successfully put to use. Now what? It is certain that high-quality components and in-depth technical expertise minimize the probability of errors and make it less likely that you will need replacement parts – but this situation cannot be entirely excluded. We are by our customers' side here, too. No one is left alone and we take responsibility for our concepts even many years after installation and assembly. But that's not all: our Service and Support also include on-call service around the clock or can be made available as a hotline or remote support without a service agreement. In general, our service agreements can be put together modularly, so that each of our customers gets exactly the package that works for them and offers the best possible support.
Service for True Durability
Our motto is to operate all of our customers' equipment for as long as possible. That means that not only do hardware products have to be regularly serviced, maintained, or replaced, but software services are also necessary when it comes to updates, documentation, remote support, and security. In this respect, we work with concepts and options we create ourselves that enable us to offer Life Cycle Service that guarantees optimum plant management and the longest service life possible.
read more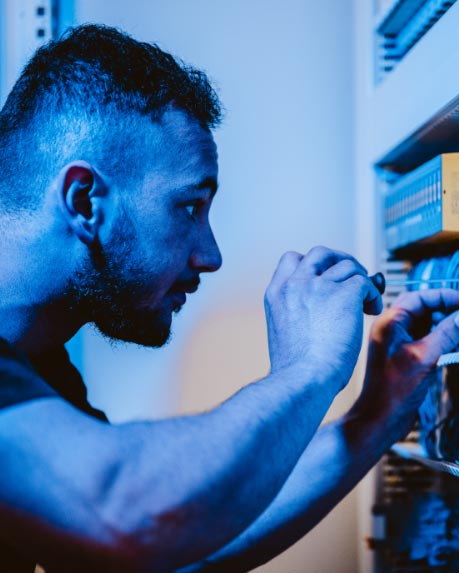 When Time Is of the Essence
Replacement Parts, System Checks, Training
In many branches of industry, immense material values are responsible for machines and products. If a crucial component of the process control system breaks, this can quickly lead to enormous downtime. So if it has to happen quickly, a spare part has to be installed or a programming intervention has to be carried out, Kessler Process Automation is on the spot. However, our service offering includes not only action in the event of an emergency, but also appropriate prevention: Regular maintenance and servicing by our experienced staff, together with recurring system checks, are essential for efficiently extending the service life of the technology.
The range of services offered by Kessler Process Automation is rounded off by training courses and workshops. With these, we introduce our customers to certain systems, developments, trends, products and innovations, make them familiar with them and also show them the current competitive position with them. Of course, this also applies to the control systems and user interfaces installed in the company, because our customers and their employees must also be closely familiar with these in order to operate them safely in everyday life.